The current protocol for treatment in American immigrant detention centers takes a toll on people's lives and mental health.  Women, in particular, are often exposed to sexual harassment and exploitation, and there are also many instances of suicide among women in such physically and emotionally trying circumstances. Detaining children and family detention in general has long-term psychological effects that go beyond deportation and should be a higher priority and conversation topic in the ongoing debate surrounding immigration reform.
The prospect of detention and deportation exacerbate the effects of undocumented status on mental health. For undocumented women, and those with undocumented spouses, this is a constant battle. Many are confronted with the possibility that their partners will be deported, leaving them to raise their children alone and unable to effectively support their families. If they themselves are deported, they worry about what will happen to their children; they could be placed in foster care, losing the familial support so crucial to maintaining their identities and drives to become successful U.S. citizens. Culturally, many Hispanic women in detention also suffer from a decreased sense of worth because they perceive an (accurate) inability to devote time to their husbands. This male-female divide is more evident in Hispanic cultures, and the female helplessness that characterizes machismo becomes an additional obstacle for detained women.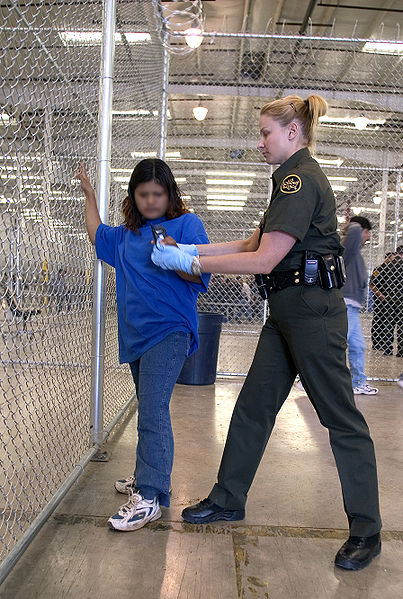 Assimilation and making American friends are also complicated with trust issues – there is an underlying fear that a new friend may report them to immigration authorities. Depression and anxiety are also common and affect a person's ability to productively work, the primary avenue through which undocumented immigrants pay taxes. Registering children for classes at school is a challenge because parents are often turned away due to their status. Fear, helplessness, depression, and anxiety inhibit undocumented women from living complete lives by working and child-rearing along with making their ambitions and hopes for a better future in America a reality. Imminent detention or worse, deportation, is a consistent, stress-inducing fear.
Children of undocumented immigrants also have traumatic experiences in detention centers. As with all children, they need space to play, and in these centers are often deprived of fresh air and the chance to develop friendships with their American citizen peers. These kids are often separated from their parents at extremely early ages and as a result, separation anxiety could inhibit them from establishing solid relationships in adulthood. These children may have difficulty performing well in school, making valuable social connections, and their confidence may suffer, making their chances of becoming successful, contributing members of society less likely. They may reject their Hispanic identity altogether.
The stigma of being an undocumented immigrant, or having your parents detained because of their immigration status, can have varying detrimental effects on a child. In cases where foster care is not an alternative, children who could otherwise be attending school are instead obligated to work in order to support themselves and their younger siblings; this could impede their career prospects, and marketability in the future. The sense of social isolation, depression, and anger drastically affects the mental health of these children so much so that they continue to struggle navigating through life's challenges.
Other forms of detention for repeated illegal entries or other offenses also affect children drastically. The current debate surrounding mandatory minimums of repeated immigration offenders has intensified in the past few weeks. Republicans propose tightening prison sentences for immigrants who have entered the country illegally. Other Republicans and Democrats are pushing for the easing of the minimum standard prison sentence ruling. Many of these immigrants only committed immigration violations and misdemeanors; nonetheless, they will receive harsh punishment for seemingly small crimes. Minimum standards have been tied to so-called "sanctuary cities," yet another play in the immigration-political football game in which all 2016 presidential candidates participate. Republicans use the situation to make the case for more border enforcement, tackling lax regulatory policies, and punishing "sanctuary cities" for not aiding ICE and reporting undocumented immigrants. Democrats argue that this is another reason why immigration reform is necessary – there is a loophole in federal oversight and excessive sentencing terms. These harsh guidelines make life very difficult and heart-wrenching for parents and children.
Americans need to see undocumented immigrants as ordinary people trying to improve their lives, not criminals who ought to be caged.
Many immigrants have managed to maintain a positive attitude and persevered, despite the detrimental mental health aspects of undocumented status, to which women and children are particularly vulnerable. Whether it is through an extensive support system, the acts of good Samaritans, good fortune, or faith, many of these people were able to get an education, become activists, or climb up the vocation ladder, albeit gradually.
It is important to recognize the cultural and economic contributions that undocumented immigrants make to American society through the tax system and with their work ethic or devotion to faith and family. Detaining them while they await an immigration hearing not only negatively affects their physical well-being, but has lasting side effects. They have come to this country seeking opportunity and should be permitted to continue living, especially if they have families and jobs here. Detention of women and children further promotes the "illegal," "criminal," and all-around "bad" reputation of undocumented immigrants. This also makes the public more fearful of this group of people and unfairly criminalizes them.
There are alternatives to detention, which many activists continue to fight for. But we can start by knowing the facts. Being "undocumented" in the U.S. is not in itself a criminal violation, but a civil one. Americans need to see undocumented immigrants as ordinary people trying to improve their lives, not criminals who ought to be caged.