The ongoing legal dispute over President Barack Obama's executive order on immigration reform has arrived at a new milestone, one not typically reached in this type of appeals scenario. The Fifth Circuit Court of Appeals in New Orleans announced that it will hear oral arguments on April 17 on the government's motion to stay U.S District Court Judge Andrew Hanen's order striking down the programs. According to legal experts, holding a hearing for this purpose is highly unusual.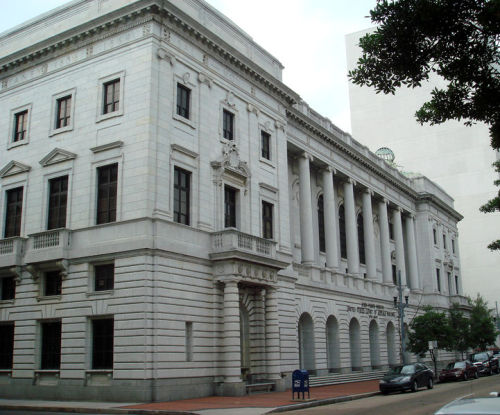 The John Minor Wisdom U.S. Courthouse, home of the United States Court of Appeals for the Fifth Circuit.
Those are almost always addressed just on the papers and very quickly…I guess they just see this as such a huge issue between states and administration they're giving it full-dress treatment," commented University of Richmond Law Professor Carl Tobias via Politico. The hearing is not to decide the constitutionality of the Obama's orders, only whether or not a stay of the lower court's ruling is appropriate while the matter is under appeal.
Regardless of the outcome, however, the Obama administration will likely end up appealing the issue to the U.S. Supreme Court. Considering the Fifth Circuit is thought to be the most conservative federal appellate court in the nation, where Republican appointees out number Democratic jurists by a 2 – 1 margin, this anticipated move by the Department of Justice would come as no surprise.
Yet despite the delay caused by the litigation, all parties are interested in a swift resolution. Immediately after the administration announced its plans in November, the Department of Homeland Security began issuing three-year deferred action grants and work permits to undocumented immigrants who entered the country as children and are now seventeen or older. Before the executive order, deferred action provisions were granted for just two years. Approximately 100,000 three-year permits were tendered prior to Judge Hanen's ruling.
Perhaps the most disheartening aspect to this controversy is that the issue has become so heatedly politicized. Of the 26 states that filed the original lawsuit, 24 are headed by Republican governors. Since the 1980s, presidents have too often appointed judges with a clearly discernible political agenda, a fact no doubt reflected in the composition of the Fifth Circuit's bench.
Can justice prove blind in this highly political case? Only time will tell.