For decades, conflict, poverty, the drug trade, and failed governments were the biggest creators of refugees. Now, as the Climate Crisis escalates, rising sea levels, extreme weather, and more intense natural disasters threaten to create refugees on an unimaginable scale. 
Today marks The International Day for Natural Disaster Reduction which was created in 1989 by the UN, in order to promote awareness of the risks of natural disasters and to spotlight how communities and nations are reducing their vulnerability to disasters. Today, the importance of highlighting the risks posed by natural disasters is more relevant than ever as the Climate Crisis has considerably increased the frequency of extreme and severe weather events.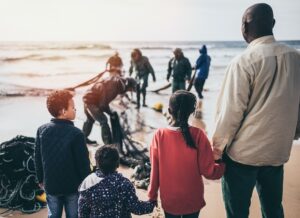 Like conflict, civil-strife, and famine, natural disasters displace millions of people around the world every year. In coming decades, more and more people are expected to be displaced due to extreme weather events that have become commonplace as a result of Climate Change. These severe events include mega-droughts, hurricanes, typhoons, and floods, wildfires, among others, affect virtually every country on Earth. However, some regions will be harder hit and less resilient than others. According to a study conducted by the World Bank in 2018, it was estimated that three regions (Latin America, sub-Saharan Africa, and Southeast Asia) will generate 143 million more climate migrants by 2050.  Scientists say that the key to mitigating the number of climate refugees is to build more disaster resilient communities and provide the resources to nations that are the most vulnerable. 
Today, around 55 percent of the world's population is estimated to be living in cities and around 68% by 2050 according to estimate by the UN. Besides reducing our impact on the environment, transitioning to a sustainable economy, and reducing our output of CO2 in the fight against Climate Change, it is vital that nations make their cities, the most vulnerable to disasters, more resilient. Unfortunately, those that are most vulnerable to Climate Change also lack the necessary resources to properly address the effects. However, with foreign aid and investment from the US and other developed countries, at-risk regions could build more resilience against the effects of Climate Change that contribute to more migration and refugees. 
If we want to prevent the mass migration of climate refugees and safeguard the planet for future generations, creating disaster-resilient communities is one of our greatest priorities.