Last week, the Supreme Court ruled 5-4 that Ms. Fauzia Din, a U.S Citizen, was not entitled to know specifically why her Afghan husband was denied a visa, and that this did not violate her fundamental right to marry. Ms. Din's husband, Kanishka Berashk, worked as a civil servant in Kabul while the country was under Taliban control. Because of this, the consular officer denied Mr. Berashk's visa application, citing a provision barring aliens suspected to be involved with "terrorist activities." No other specifics were provided.
In his plurality opinion, Justice Scalia wrote that "Din cannot possibly claim that the denial of [her husband's] visa application deprived her of life, liberty, or property."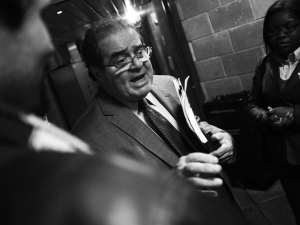 The effect of this decision is far-reaching and not only because it concerns immigration and national security policies. The ability of people to move and relocate is a natural human instinct, but an even more important and necessary protection for people fleeing persecution. Ms. Din herself sought asylum in the United States in 2000, after escaping Taliban rule in Afghanistan in 1996. Declaring that Ms. Din lost no fundamental rights in not being permitted to live with her husband in the U.S. is the equivalent of saying that she also lost her right to live in the U.S in the first place. The decision essentially makes her right to live in the U.S. contingent upon her choice of partner.
Kerry v. Din is not subject to judicial review because of a doctrine called consular nonreviewability, whereby the consular officer's decisions are exempt from being invalidated or even questioned. This was established in United States ex rel. Knauff v. Shaughnessy in 1950. At the time, Justice Minton wrote in the Court's opinion that "[w]hatever the procedure authorized by Congress is, it is due process as far as an alien denied entry is concerned."
Sure, there is some logic behind consular nonreviewability as a doctrine. When considering the issue on a larger scale, the decisions made by consular officers to grant or deny entry are inherently connected to foreign policy and national security. Especially in an age characterized by globalization and international mobility, there is some sense behind limiting the availability of review of consular level decisions, even if only for the sake of logistics. 
For the most part, however, the doctrine is a hindrance for transparency in the consular process, and a loophole for accountability on the part of consular officers. Specific characteristics of the doctrine are puzzling. In Ngassam v. Chertoff (2008), for example, it was decided that the court "does not have jurisdiction to review a consular official's decision, even if its foundation was erroneous, arbitrary, or contrary to agency regulations."
Another antiquated feature of the doctrine is its origins. For the last hundred years, federal courts have been upholding a concept born of the famously-prejudicial Chinese Exclusion Case of 1889, a decision that would precede the racist ethnic quotas and xenophobic sentiments of the early twentieth century. It was ruled that the ability to decide to exclude or admit aliens resided in the "political branches" of the government; in this, the groundwork for nonreviewability was laid.
In Kerry v. Din, the Supreme Court had the opportunity to reconsider the role of the doctrine of nonreviewability in the consular process. Instead, the decision follows a long line of endorsements for nonreviewability and in a way, represents the fact that perhaps we have lost sight of what immigrating to the United States means on a human level. Ms. Din was denied the opportunity to live with her husband of nearly ten years and build her family in the United States; and because of an antiquated legal doctrine and a series of federal court decisions, she will never know why her husband was deemed a threat to national security.
Regarding Kerry v. Din, Elizabeth Keyes writes, "Justice Scalia describes as "strange" the idea that Ms. Din has been deprived of something, since—clearly—the Government is not taking away her marriage, just her ability to be with her husband in the United States. But Ms. Din was a refugee, someone whose fear of death or other persecution was so great that the U.S. Government itself found her fears objectively reasonable. To say she has lost nothing because she cannot enjoy the sanctuary of the United States with her husband is to deliberately misunderstand global migration."