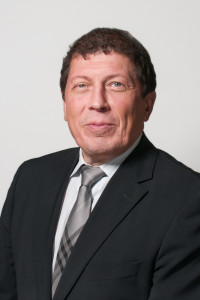 We came to the U.S. as refugees under the Lautenberg Amendment. There were three of us: myself, my wife and my then-4 year old daughter. We arrived in New York on November 30, 1989 by plane, most likely a Boeing. We boarded in Rome, but because food workers there were on strike, the plane stopped in Paris before continuing on to the United States.
The original journey started in Riga. We took a train to Moscow, spent a day there, and then boarded a plane to Budapest. Our tickets were purchased to Vienna, so after a 3-hour layover and a short second flight, we arrived in the free world. HIAS met us at the airport and we were transported to a small apartment on the northern side of Vienna, next to some sort of park. We were lucky because other immigrants lived in single rooms, not whole apartments. We spent 3 weeks in Vienna while our paperwork was processed. We were also given some money and food – that's when we first saw a real supermarket!
From there, we were taken by train to Rome. The train was full of immigrants, probably charter, and it was stopped short of Rome for security reasons. There were police everywhere. In several hours, we were transported to a hotel and were told to find an apartment outside of Rome in a week. We had some relatives who left before us and directed us to the seaside, small town of Torvayanika, just west of Rome. With no English and no Italian language skills, we made a trip there and managed to rent a room in a villa. It was mid-October but we were able to enjoy the warm weather and even sunbathe a bit. We were also busy selling stuff we brought with us, going to Rome to buy food, and hanging out with friends (there were a lot of immigrants from Riga). We went to the Vatican and did some other sightseeing. Finally, we were called to the U.S. Embassy in Rome for a refugee interview. It was pretty quick and easy. Every evening, everyone gathered at the main  square to wait for mail from HIAS, which signaled clearance to go to the U.S. After 6 weeks in Italy and making new friends with locals and other emigrants, we also received our clearance paperwork.
Because of that extra stop in Paris, we didn't arrive in New York until well after 3AM. We cleared customs and my friend, who emigrated in 1979, met me outside baggage claim. We took a shuttle bus to another terminal at JFK airport for the flight to Detroit. There we were met by my brother and some other friends from Riga who were already settled in the U.S. I was so tired I don't remember much from that night; my daughter for sure does not remember anything because she slept the whole thing.
We left the Soviet Union to be free from government-sponsored anti-Semitism.
I have no idea where would I be if not in the U.S., perhaps Israel or Germany. I am very happy with our decision. I was actually originally the one who did not want to leave the Soviet Union, where we lived fairly comfortably and had no major issues with authorities. However, after visiting my brother in the U.S. in 1988, I changed my mind and began preparing for our USSR exit.