According to the Hamilton Project, an economic policy initiative at the Brookings Institution, immigrants are thirty percent more likely to start new businesses in the United States than American-born citizens. Furthermore, eighteen percent of small business owners in the US are immigrants – higher both than the share of the immigrant population (eleven percent) and the percent of the immigrant workforce (sixteen percent). This interest in entrepreneurship among immigrant populations makes sense; after all, all immigrants make the conscious decision to uproot their lives and their families in order to pursue American opportunities. This willingness to take risks and take advantage of opportunities (or more likely, to carve out opportunities themselves) denotes ambition, drive, and enthusiasm, qualities we strive both to emulate and attract in the U.S. And therein lies the essence of the American dream, that which is foundational of the hopes and expectations of many immigrants who strive to live and work in the United States: opportunities, and the determination it takes to find them.
Adel Ahmed's story began like that of many – he grew up in a poor family in Egypt, where his father had to work tirelessly in order to support Adel and his five brothers and sisters. And like many others, he dreamt of emigrating to the United States in the midst of childhood hardship. Mr. Ahmed eventually gained the opportunity to cook for his country's prime minister, and even so, still strived to cook in the US. And indeed, upon gaining work authorization, he would arrive in America in 1996. It is perhaps here where his story diverges from those of other immigrants, however, because of the state-side culinary success that Mr. Ahmed would eventually realize.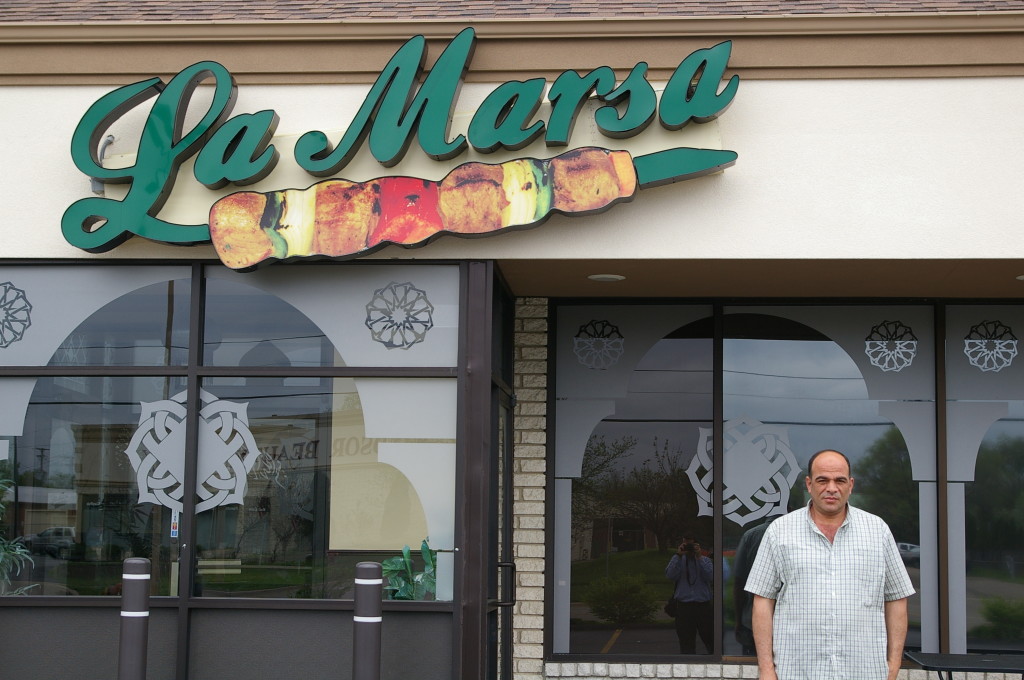 These days, Mr. Ahmed is an award-winning chef and a co-owner of La Marsa, a popular area restaurant that features Mediterranean and Middle Eastern cuisine. To represent La Marsa in such terms, however, would be an understatement; it has evolved into a bona fide restaurant powerhouse, boasting eight locations in metro Detroit since its first opening in 2006. But in talking to Mr. Ahmed, you would never know it. His demeanor is quiet and unassuming as he describes how he and his partners built La Marsa. When I asked Mr. Ahmed to describe the beginnings and foundation of the restaurant, he smiled and laughed. "Four tables," he said. "And no bathroom." In discussing the early years, from having to build a bathroom in their first restaurant, to eventually expanding to the pizza place next door, Mr. Ahmed told a story of incredible hard work and determination, but without a hint of regret. He told me he worked for two straight years without a day off, but he described it with amusement and pride. In this, however, he doesn't forget to acknowledge the support of his family – he mentioned it several times. It is this humility and gratitude which separates those who are simply financially prosperous from those who are truly successful – they never forget where they came from.
In the case of Mr. Ahmed, not forgetting where he comes from informs his success; his critically-acclaimed menu features many traditional Middle Eastern and Egyptian dishes, including koshary, a wildly popular rice dish in Egypt. La Marsa has received rave reviews from area critics, including three out of four stars from the Detroit Free Press. And as mentioned before, the once-humble restaurant now boasts eight locations across metro Detroit. La Marsa's success is founded in the richness and freshness of its fare, which, of course, is a product of Mr. Ahmed's talents as a chef and his willingness to share the flavors of his home with us.
Data about immigrants and the American economy comes from:
Greenstone, M. and Looney, A. (2010). Ten Economic Facts About Immigration. The Hamilton Project. http://www.hamiltonproject.org/files/downloads_and_links/09_immigration.pdf.
Kallick, D. (2012). Immigrant Small Business Owners: A Significant and Growing Part of the Economy. The Immigration Research Initiative of the Fiscal Policy Institute. http://www.fiscalpolicy.org/immigrant-small-business-owners-FPI-20120614.pdf.