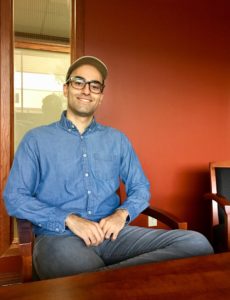 Looking back at my time here at the firm, it is difficult to pinpoint the most valuable experiences I was able to obtain in my short three months here.  Going into this internship, I had a very limited idea of how exactly immigration law worked. As a college student entering my senior year at Michigan State University with the intentions of pursuing law school, this has been the most practical and enriching experience I have been given.
First and foremost, the world and its many converging cultures and peoples have always been a large interest of mine.  I love learning about the different dynamics of each culture which I believe is most effectively achieved through face to face interactions with people.  George P. Mann & Associates clearly carries this dynamic within their staff and the clients they help. Within five minutes of entering the office you can hear at least 3 or maybe even 4 different languages being spoken.  The applicability of culture is an important aspect for my future career and immigration law certainly has that.
Additionally, I have learned that there are MANY ways in which an immigrant can apply for citizenship, visa, asylum, etc.  Being an inexperienced intern, I thought there were only a view variances in forms and conditions in which a person can get into this country.  It turned out, I was very wrong. This is a complex field of law and it changes with precedent almost every year. Even having gained the experience that I did in three months, if I were to keep up with the changing laws and policies over the years, I would have to constantly learn new conditions just as the staff here does.  A direct example of how I discovered this for myself was by reading the day to day email updates of Department of Homeland Security policy changes.
Lastly, I have learned that the immigration process can be a slow and grueling process for not only the clients, but also the attorneys, paralegals, and other staff that seek to help them.  You can tell the personnel here in the office are passionate about what they do and with it, you can feel the emotions of sadness, anger, frustration, and happiness running high from time to time. Specifically I have learned that the Department of Homeland Security, its sub agencies, and the Immigration Court has the ability to make the hard work of the firm's employees feel like a lost cause, while others times, cause tears of happiness.  
It is with my fair assessment to say that the immigration system in this country is somewhat broken, failing not only its own citizens, but also those around the world seeking a better life in the "great" United States of America.  Especially with our current administration's policies, such an immigration system can muddy the "greatness" we have placed on our country. When I step into this office and see all the different obstacles our staff and clients have to jump through and then come home to hear news of our country's latest debacle, I can't help but maintain that this is a defective system.
This is absolutely not to say that immigration law does not work and that success can never be attainable in this field.  I've witnessed many accomplishments in this office, however, I can tell that the failed attempts sting the most, especially with today's political climate. I praise the attorneys, paralegals, and other workers in this office for their constant drive to make things as right as possible for their clients even when the situation seems dire.
Nonetheless, I enjoyed my experience here at George P. Mann & Associates and will miss everyone here at the office.  I enjoyed the relationships I was able to build in my short time and want to thank those for taking the time to teach and train an inexperienced college student.