It's summer, and if you're a non-U.S. citizen in one of the now 11 states (and the District of Columbia) where marijuana is legal for recreational use, it might seem like the right time to sit back, relax, and roll a fat one. Your non-U.S. Citizen self however, would be wrong.  
Shortly after voters approved the sale of recreational marijuana in the state of Michigan, we put out an article listing the potential legal dangers associated with the usage of marijuana as a non-citizen. Since then, the number of states that have legalized marijuana for recreational use has only continued to grow, and with it, so has the possibility of these non-citizens jeopardizing their status in the U.S.  If you are in the country and are not a U.S. citizen, it is more important than ever to avoid marijuana usage or purchase.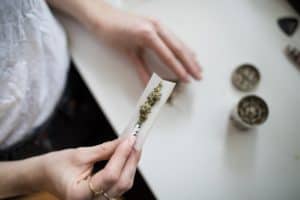 The issue has also caught the attention of the entertainment industry. Recently, attorneys for a music management firm issued a warning to avoid visits to marijuana dispensaries. Although it was intended to inform international artists, the warning can apply to any foreign national who visits the United States.  
The notification stated that those in the U.S. with visas or other forms of authorized admission should not even visit the dispensaries, even if recreational marijuana is legal in that state. Apparently, those who provided their passports at dispensaries and then left the U.S. were later denied admission —without their knowledge— when they tried to return. Furthermore, even if a visa was not revoked, reports indicated that non-U.S. Citizens who, on a prior visit, spent time in a state where marijuana is legal, were being questioned during successive entries on whether they visited dispensaries or used marijuana while there. 
It doesn't stop there. Thousands of Canadians "have been denied entry to the U.S. simply for admitting they've smoked a joint once in their lives." Customs and Border Patrol (CBP) has also denied entry to people who have admitted to using marijuana in Canada for medical purposes. Just recently, CBP barred for life  "a young Canadian woman from crossing the border after cannabidiol (CBD) oil was found in her backpack — a non-psychoactive product of the cannabis plant she uses to treat the painful side effects of scoliosis." 
Marijuana is still considered a Schedule 1 drug under Federal Law which governs immigration and unfortunately, in our current political climate, the Department of Homeland Security is using any reason it can to deny entry into the United States. The best thing you can do is not give them a reason to… even if it means finding a different way to self-medicate.