When George Mann and his parents set foot in New York in the fall of 1964 after having crossed the Atlantic Ocean on a ship appropriately named, "SS Independence," the only items they carried were the clothes on their back, a few dollars in their pocket, and an old chest. This chest held the few family possessions they were allowed to take with them when they left Romania, which at that time was a Soviet satellite country behind the iron curtain.
That old chest they bought in Italy got plenty of wear as it accompanied them on the ship from Genoa to New York, then by train to Detroit. Once unpacked, it was set aside, and forgotten in the basement of the modest family home in Livonia, Michigan. There it sat for over 50 years collecting dust and cobwebs. A few years ago while going through his parents' house, after they passed on, George rediscovered that old battered chest. It brought back memories of that eventful voyage over half a century ago when as a teenager he encountered the new world.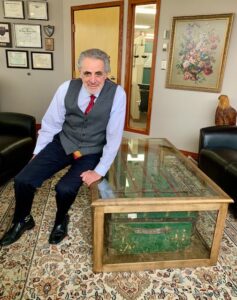 Today, we are celebrating this heirloom chest which sits in George's office tucked inside a new wood and glass case constructed as part of the firm's 40th anniversary. Although the leather straps are worn, the interior lining crumpled, and the green exterior paint faded, the chest stands as a testament to the sacrifices, hard work, and humble beginnings that generations of immigrants experienced and continue to experience upon arrival to this nation's shores and borders.
For on that October day in 1964, this trunk not only carried George and his parents' few possessions, but their hopes and dreams for a new beginning and a better life.