Although Attorney Maris Liss is not an immigrant herself like the rest of our attorneys, her experience with immigration law started at a very young age. Beginning at age 16, Maris was placed in an immigration law office in New York City as part of a work-study program in high school. For $3.35 per hour, the minimum wage at the time, she worked on making copies of USCIS submissions, calls to the Consulate, and other clerical tasks. Once she graduated from high school and learned how to type, she became a clerk for the same attorney, working during her holidays and summer vacations until law school.
A chance meeting between Maris and GPM more than a dozen years ago brought her to the law firm, and we are extremely happy to have her on board! During and after law school at Columbia University, Maris worked in numerous areas of law, including product liability, administrative hearings and commercial litigation for the New York City Housing Authority. Upon the births of her sons, however, Maris decided to stay at home and raise her children. By 2003, Maris and her family relocated to Michigan. One day in December of that year, Maris attended an event with her son and got to talking with GPM, who was also there with his son. Once GPM got wind of Maris's intellect, education, and occupational background, he offered her a job at his firm.
Nearly thirteen years later, Maris is the head of our federal litigation and appeals department. She has become a nationally-recognized leader, speaker, writer and appeals expert in the field of immigration law. Maris is a co-editor of the American Immigration Lawyer's Association publication, The Immigration Litigation Toolbox, 5th Edition. The Toolbox is a guide for other lawyers on litigating cases from immigration court to the Supreme Court, including immigration litigation strategies, sample pleadings, and practice tips.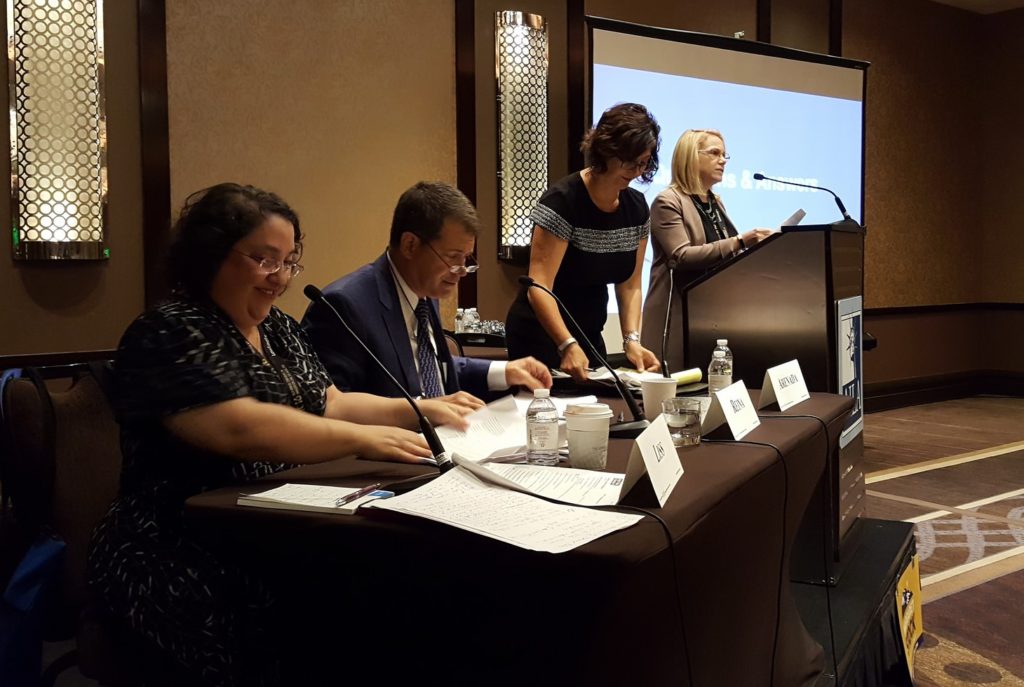 Maris's first encounter with appeals happened on her first day of work — GPM had her working on Board of Immigration Appeals (BIA) cases from day one. Maris says she learned how to craft arguments and navigate immigration law on the job, and by doing a great deal of research. As Maris puts it, "I enjoy reading 6th Circuit Court decisions the way other people enjoy reading novels." Maris had a knack for identifying and using key information in the court's decisions to strengthen her own arguments.
One case in particular that exemplifies the challenging nature of Maris's work was one that we won at the 6th Circuit Court. Our client in that case became a U.S. permanent resident in 1993, but during his stay in the U.S., he was convicted of two separate misdemeanor marijuana possession charges. After his second conviction, the Department of Homeland Security (DHS) placed him in removal proceedings. He was deemed deportable based on the fact that his two misdemeanor convictions, which were handed down at the state level, qualified him as an aggravated felon under federal law when applied hypothetically.  In the initial cancellation of removal proceedings in Immigration Court, the Immigration Judge determined that our client's second conviction amounted to a drug-trafficking felony offense under federal law dealing with recidivism, and considered him subsequently as an aggravated felon, even though his criminal case had already been resolved and he had already been charged with two separate misdemeanors.
Maris took issue with the "could have been" nature of the Judge's approach to our client's case, not to mention the Judge's erroneous conclusion that our client was ineligible for cancellation of removal, so we appealed to the BIA. However, the Board affirmed the Judge's opinion, and our client was deported.
Maris insisted on taking the case to the Sixth Circuit Court. In her argument, she took aim at the nonsensical transformation of our client into an aggravated felon at the hands of the Immigration Judge and the BIA. Via reliance on a separate court case in their determinations, the BIA and the Immigration Judge applied the "hypothetical federal felony" rule to our client's case. They had determined that our client's two state-level convictions amounted to recidivist drug possession, a federal felony. One notable problem with their argument, however, was that per the determination of state level criminal court, our client had two separate controlled substance misdemeanor convictions – the second conviction made no mention of the first, meaning he was not convicted of a recidivist offense on the state level.
In her brief, Maris highlighted this problem, as well as many others that materialize when courts treat conduct that could be punishable as a felony as an actual conviction. Our client was being treated like he was convicted of felonious recidivism for the purposes of immigration law, but was never given the opportunity to challenge this conviction. Under this hypothetical scheme, Maris argued, our client's right to due process was being violated.
Her argument was resoundingly affirmed by the Federal Appeals Judges, who ruled in our client's favor. In the court opinion, Circuit Judge Robert Gilman wrote, "This case presents an important issue at the intersection of immigration law and criminal law."
The gravity of the content of the case was not lost on the 6th Circuit Court, nor was it lost on the U.S. Supreme Court two years later. In 2010, SCOTUS ruled unanimously in favor of the petitioner in Carachuri-Rosendo v. Holder, and against the liberal application of the "hypothetical federal felony" rule. Justice Stevens, who wrote the opinion for the case, even quoted Maris via direct reference to the brief she submitted in our 6th Circuit Case!
Appeals represent the end of the line for many our clients. Once their cases get to Maris, often they have already navigated the stormy ups-and-downs of immigration proceedings for many years, and have found themselves on the losing end of numerous court cases. Appeals are uphill battles, and require endurance on the part of clients – and their representation – who are often tapping the last of their emotional and intellectual resources in order to throw everything they can behind the legal version of a last ditch effort.
For Maris, she says, part of what she loves about appeals and about our team is that we do everything we can to win for clients, including settling cases. We file every motion we can, employ every strategy we can think of. We handle complicated appellate cases well, thanks in large part to Maris, and that makes our service different from other firms.